Directions
By Car
Important: In order to enter the KIT campus by car, you will need a permit. Please contact our secretary Ms. König for that.
When arriving via the motorway A5, please take the exit Karlsruhe-Mitte (no. 45) towards Karlsruhe Mitte/Rheinhafen onto the southern tangent ("Südtangente", K9652). Take the first exit (no. 1) in the direction of Oststadt/Stadion. Follow the main road that will take on the designation B10 until you reach a larger roundabout, where you will take the second exit, still continuing on the B10. At the next larger crossroads turn sharp right into the Kapellenstraße. Go straight at the next crossroads (Durlacher Tor) into the Adenauerring in the direction of "Stadion". The driveway of the KIT will be to the left at the next traffic light. If you do not know your way around Karlsruhe, please do not take the motorway exit Karlsruhe-Durlach and do not use the Durlacher Allee due to the many construction areas.
There are generally many signposts for parking spaces outside the campus. The parking garages at the Zirkel and Schlossplatz are reasonably priced; and there are a few free parking spaces on the Adenauerring between Durlacher Tor and Stadion. Please follow the signs directing you towards Schloss or Stadion.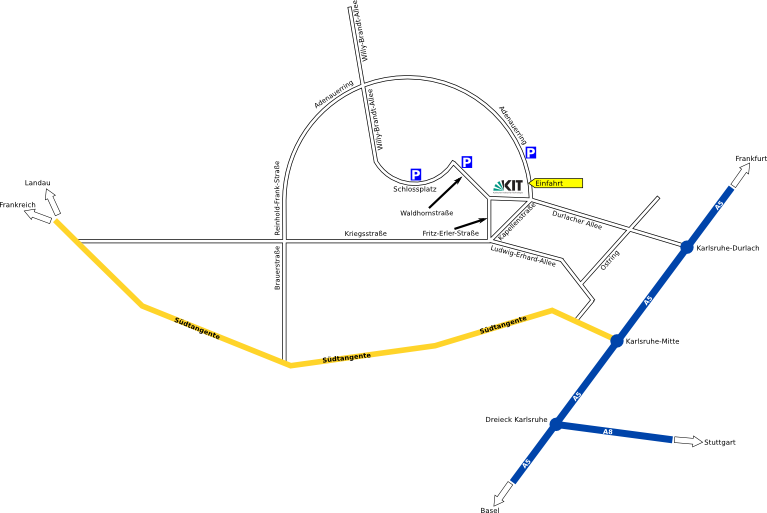 Map directions to the KIT (enlarge)
By Public Transportation
The station closest to the institute is Kronenplatz. The current schedule can be accessed at the website of the public transportation authority in Karlsruhe (KVV), and give "Karlsruhe Kronenplatz (Kaiserstraße)" as your destination (labeled "Ziel" in the German version) and for example "Karlsruhe, Hbf Vorplatz" as your point of origin (labeled "Start" in the German version). Be careful that dates are to be specified in the European (day.month.year) and not in the American (month/day/year) style.
On Foot
The Institute for Theoretical Condensed Matter Physics is located on the 10th floor of the physics high rise. It is a 5 minutes walk from the station Kronenplatz. Please cross the Waldhornstraße and the Berliner Platz and take a left turn into the Englerstraße. At this point the South Campus of the KIT starts. Follow the Englerstraße and a while after a bend to the left please go right into the Lehmannstraße. After you have crossed the Engesserstraße, you will be looking at the physics low-rise building ("Flachbau") and the high-rise will be behind it.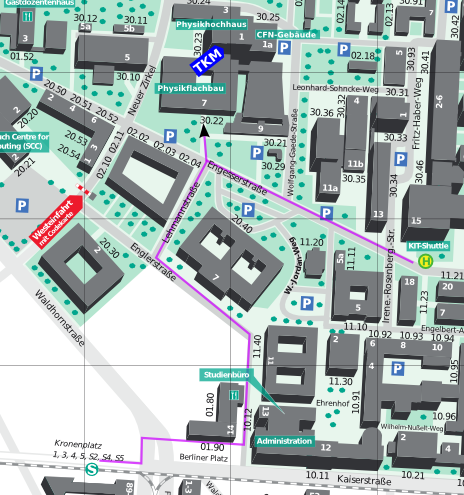 Clipping of the campus map including directions to TKM (enlarge, complete campus map)